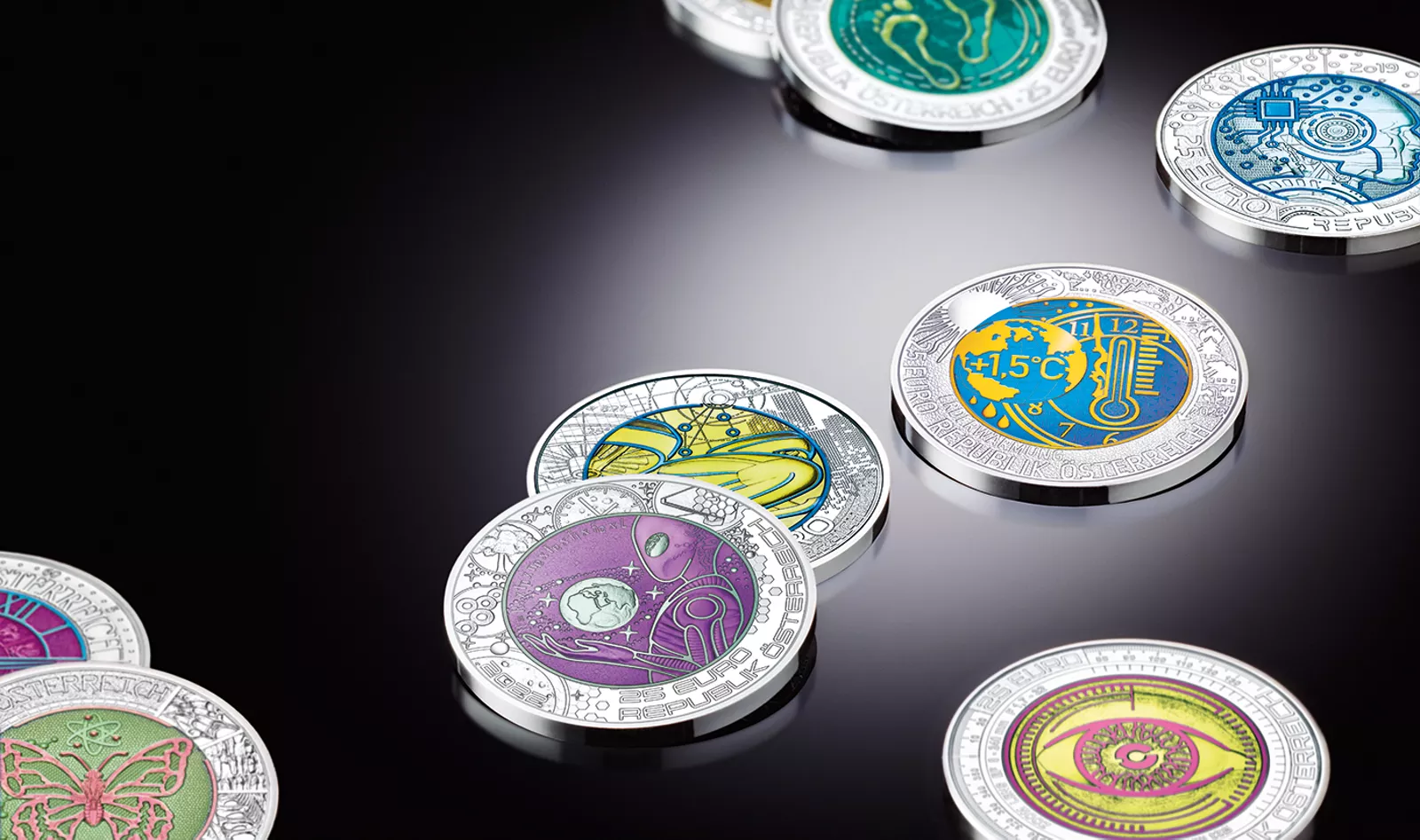 The Austrian bimetal coin "Mobility of the future" (2021) has won the "Coin of the Year Award" in the category "Best Bi-Metal Coin 2023". Issued in recognition of exceptional coin design and innovative spirit, this international competition has now been won nine times by Austrian silver-niobium coins already.
Innovative technology from Plansee is used in the production of the bimetal coins with a face value of 25 euros. A specially developed oxidation process is used to oxidize the surface of the niobium coins and thereby generate a rich color contrast without having to apply any coloring agents. The result of this "anodic oxidation" is a coin that is not just unique, but which also has a high collector's value.
What happens during anodic oxidation?
During an anodic oxidation process, the coin is dipped into an electrolytic solution and an electrical voltage is applied. This voltage converts the outermost metal layer into an oxide layer just a few nanometers thick. It is the thickness of this oxide layer that determines the respective color effect. The oxidation process is so precise that every coin exhibits the same color.
The same method is being used to produce the new €25 coin themed "Global Heating". The value side of the coin shows a thermometer that is simultaneously a clock showing two minutes to twelve. To the left is a globe with "+1.5°C" printed on it. The themes of economical, ecological, and social sustainability are depicted on the reverse. In the middle of the coin is a globe with the silhouettes of two faces shown on the right. A sea turtle is seen swimming through the scene, which is threatened by extinction due to environmental pollution and climate change.